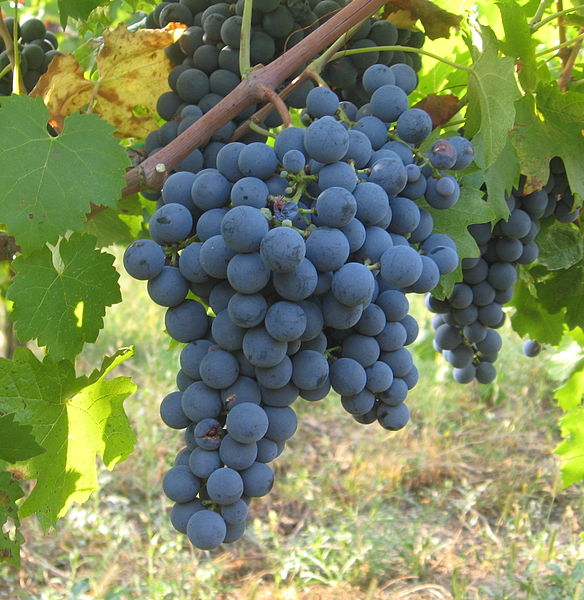 [Carmenère Grapes / lebowskyclone]
The ancient grape Carmenère is considered one of the six original red grapes of Bordeaux, though it is almost impossible to find in France today.
It has been suggested that Carménère might be a relatively modern name for the Biturica vine, a famous wine producer lauded by Pliny the Elder. The name Carménère comes from the French word for crimson, referencing the vibrant red color of wine the grape produces. The color is so deep and rich that it seems almost black in the bottle and in the glass, until you tilt it and light filters through and changes the edge to violet.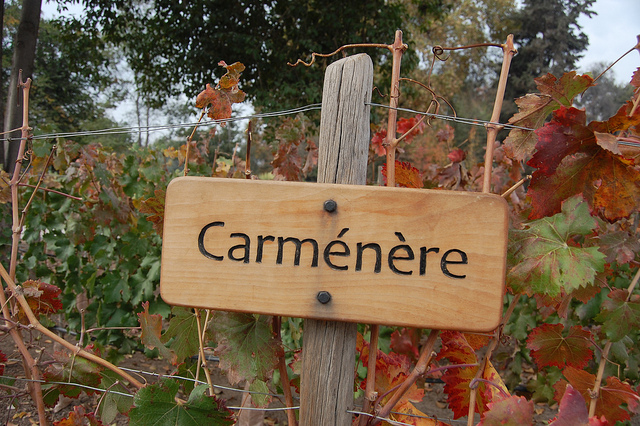 [Vines Growing at the Foot of the Andes Mountains / Carlos Varela]
The grape was nearly wiped out in the phylloxera epidemic of 1867. Always a low producer and very susceptible to infections, the difficulty of finding healthy rootstock and in having the vines survive to production led to the belief that the grape had essentially gone extinct in its French birthplace. Planted in Chile as a field blend with Merlot, the vine was known as Merlot Chileno and rediscovered as Carmenère in 1994. Chile's geography and drier climate has led to healthier plants and a resurgence of the grape. Since then Carmenère has almost become the national grape of Chile, creating deeply purple wines with green pepper flavors that can transform into berry notes as the grapes mature.
[Oak Barrels of Carmenère at Concha y Toro in Chile / Carlos Varela]
Carmenère is a moderate to warm weather vine that produces a grape naturally high in sugar and potential alcohol. The tannins tend to be weaker than similar wines like Cabernet Sauvignon and Merlot with a correspondingly lighter body and mouth feel. Often used as a blending grape to impart smoothness and color, it can also be a very enjoyable single varietal.
Most often drunk young, a Carmenère wine has the trademark deep red color and powerful aromas of primarily red berries, with hints of chocolate and spices. The flavors of the wine often tend more towards dark berries, dried fruit and dark chocolate. With much lighter levels of tannin than other dark reds, Carménère lacks the astringency of those wines, letting it finish with an aftertaste of coffee, tobacco or licorice.
When harvested early, the grape produces a wine that tends towards the herbacious and spicy, think green pepper, but as the grape is allowed to mature the berry flavors come through strongly, trending from sweet red berries to more full flavored blue and black berries at full maturity. As a single varietal the key is to create a wine that maximizes flavor while still retaining youthful acidity.
As with many reds, Carmenère pairs well with many meats, unlike other reds, Carmenère has the ability to manage some spicy flavors and so can pair well with tacos, steak with Chimichura sauce, teriyaki grills and the like. As a lighter red – it is a great general food wine, good with burgers, pizza and pasta.
Name: Carménère
Species: vitis vinifera
Origin: France
Color: Red wine (purple grape)
Other names: Bouton blanc, Cabernet Carménère, Cabernella, Carbouet, Grand Carmenet, Grand Vidure, Grande Vidure, Karmene
Notable Regions: Chile, United States, France, Italy, Australia, New Zealand
Common Food Pairings: salty meats, tapas, duck, burgers & pizza
---