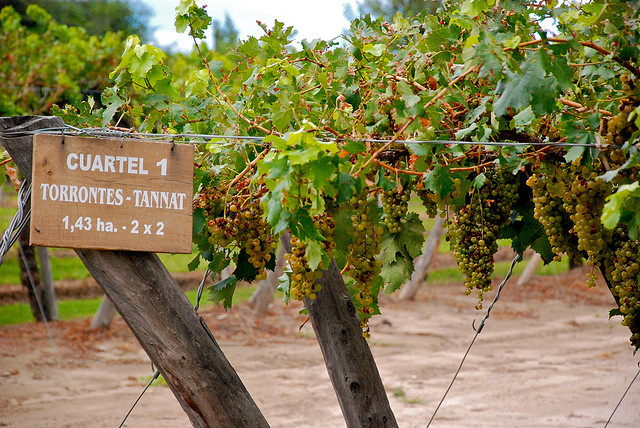 [Torrontes in Cafayate / aaepstein]
Torrontes is a very confusing grape. There are more than five different varieties of the grape that are grown in Spain, Argentina, Portugal that are referred to as Torrontes. These are Torrontes, Torrontes de Montilla, Torrontes Mendocino, Torrontes Riojano and Torrontes Sanjuanino. In addition, certain varieties have been matched genetically to the grapes known as Malvasia, Moscatel Amarillo, Heben, Criolla, Albillo Mayor, Alarije and Fernao Pires.
All in all it is a mess, though it is surmised that the grape appeared first in the Iberian penninsula. One legend has it that Torrontes is an offshoot of the Muscat of Alexandria and Mission grapes. The Muscat of Alexandria is one of the most ancient of the genetically unmodified vines that has been used in wine production at least since the days of the Pharoah's in ancient Egypt. The Mission grape, recently matched to the almost-lost Sherry grape, Listan Prieto, via DNA matching, was spread throughout South America by Spanish missionaries to develop their vineyards back in the 1600s.
Most versions of Torrontes are very productive grapes that bud and ripen early to produce large thick skinned grapes. A vigourous grape that does well in the high, cool vineyards of Argentina, it has become that country's most prevalent white grape.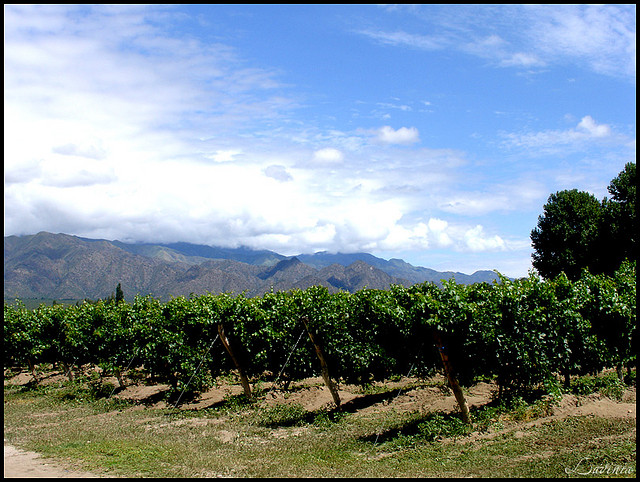 [Cafayate, Argentina / Emi]
In its most common form, Torrontes produces a dry white wine with fresh flavors and aromas. Floral aromas similar to those produced by the Muscat or Gewurtztraminer grapes are most common, though the flavors tend towards the more mineral in the best wines and sometimes bitter in the worst.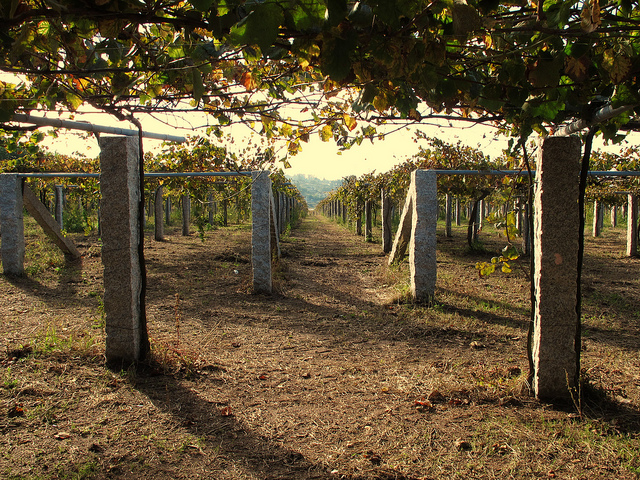 [Concrete pergolas in Raix Baxas / jacilluch]
In Spain and Portugal, the various grapes known as Torrontes produce a range of wines from sparkling and still to those used in Madeira type fortified wines. These wines tend towards high alcohol and medium acidity which lend themselves as bases for blends and concentrated wines such as those that are fortified or allowed to bottle ferment to create sparkling. As with Torrontes grapes, wines generally feature floral aromas and are almost always drunk fresh since most styles do not allow for much aging potential.
Torrontes is most commonly from Argentina when found in the United States. It is a fresh and floral wine, usually well balanced with minerality that works well on the picnic table during the warm spring and summer months.
Name: Torrontés
Species: vitis vinifera
Origin: Spain
Color: White wine (white grape)
Other names: Torrontés Riojano, Torrontés Sanjuanino, Torrontés Mendocino, Torrontel, Malvasia
Notable Regions: Spain, Argentina & Portugal
Common Food Pairings: seafood, smoked meats & summer picnic food. Mild to medium strength cheeses are a good complement as well with a nicely acidic Torrontés.
---