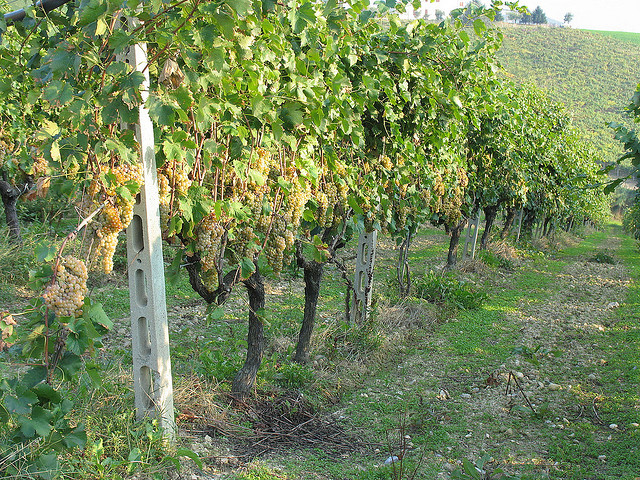 [Trebbiano grapes in March / GlobeTrotter1937]
Trebbiano is the second most-grown white grape in the world. For all of that, you may well have never heard of it.
It is known as Ugni Blanc, Clairette Ronde and St. Emilion in France and is used as generic table wine or in the world-famous cognacs and armagnacs of France. In Italy it is used through more than 80 DOC regions but only seven actually use the name of the grape as the wine. It is most known as part of the Orvietto blends of Umbria or in the production of Balsamic vinegar. Grown throughout the world, it's most often used as a blending grape where it adds acidity to softer wines.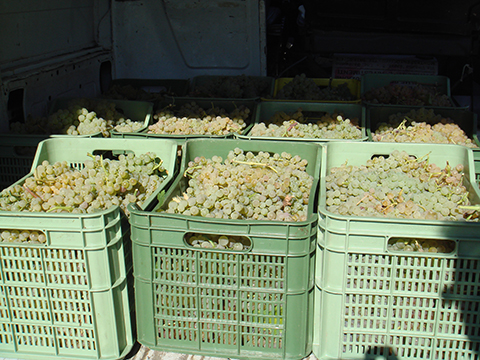 [Harvested Trebbiano grapes / Gabriele Cantini]
A heavily producing and vigorous vine, the bright yellow grapes have tough thick skins that yield a lot of acidic juice. It buds later in the season, so is less at risk to frost damage, and it is often picked early to emphasize the acid levels in the grape As a blending grape, Trebbiano adds acid, a crisp finish and essentially neutral flavors.
If created as a single varietal the wines are meant to be drunk young and fresh and should feature crisp flavors of citrus and mineral with light floral notes in the nose. This type is light enough to accompany shellfish and light pastas.
Trebbiano is of indeterminate Italian origin, probably from the region of Tuscany where it was once so common as to be allowed inclusion in their red blends just based on availability and quantity of juice. The earliest mention of Trebbiano is believed to be found in the Natural History of Pliny the Elder from the first century A.D. Legend has it that it traveled from Italy to France, along with the Pope, to Avignon in the 14th century, and rapidly spread from there.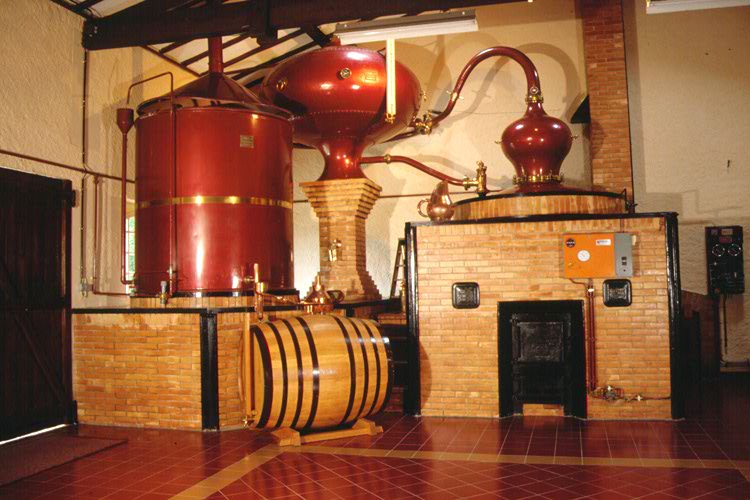 [A pot still used to turn Trebbiano wine into Cognac / Semhhur]
In Cognac and Armagnac the acidity and the floral notes can be translated through repeated distillation into the famously concentrated rich brandies. Brandy distillation concentrates both flavors and alcohol of a base wine and Trebbiano or Ugni Blanc has almost the perfect balance of soft flavors, high acidity and low to mid-level alcohol to create a finished cognac or Armagnac.
Trebbiano may not be famous for its taste or complexity, but it is an important grape whose health, vigor and balance have led to some of the great wines of the world. If you enjoy a glass of cognac or come across the rare Trebbiano varietal available outside of Italy, take a moment to think fondly of this humble grape.
Name: Trebbiano
Species: vitis vinifera
Origin: Italy
Color: White wine (yellow grape)
Other names: Albano, Biancame, Biancone, Blanc Auba, Blanc Bacca, Blanc de Cadillac, Blancoun, Bobiano, Bonebeou, Boriano, Boua, Bouan et Beou, Bragrunha, Branquinha, Brocanico, Bubbiano, Buriano, Buzzetto, Cadillac, Cadillate, Castelli, Castelli Romani, Castillone, Chatar, Chator, Clairette d'Afrique, Clairette de Vence, Clairette Ronde, Coda di Cavalo, Coda di Volpe, Douradina Branco, Douradinha, Elba, Engana Rapazes, Espadeiro Branco, Eugana Repazes, Falanchina, Greco, Gredelin, Hermitage White, Juni Blan, Lugana, Malvasia Fina, Morterille blanche, Muscadet, Muscadet Aigre, Padeiro Branco, Paduro Branco, Passerena, Passerina, Perugino, Procanico, Procanico dell Isola d'Elba, Procanico Portoferraio, Queue de Renard, Rocanico, Romani, Rossan de Nice, Rossetto, Rossola, Rossula, Roussan, Roussea, Rusciola, Saint Émilion, Saint Émilion des Charentes, Saint Émillion, Santoro, Shiraz White, Spoletino, St.-Émilion, Talia, Thalia, Trebbianello, Trebbiano della Fiamma, Trebbiano di Cesena, Trebbiano di Cesene, Trebbiano di Empoli, Trebbiano di Lucca, Trebbiano di Tortona, Trebbiano di Toscano, Trebbiano Fiorentino, Trebbiano Toscano, Trebbianone, Tribbiano, Tribbiano Forte, Turbiano, Ugni, Ugni blanc, Uva bianca
Notable Regions: Italy, France, United States, Worldwide
Common Food Pairings: Shellfish and lighter pasta dishes
---