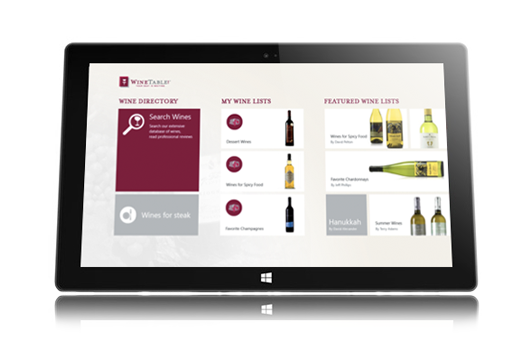 MINNEAPOLIS, Oct. 26, 2012 – WineTable.com, a wine education and social networking website based in Minneapolis and Denver, introduces the "My Wine Lists" app as part of today's Microsoft® Windows 8 launch.
My Wine Lists allows Windows 8 wine enthusiasts to find wines, create food and wine pairings, access and write interactive wine tasting notes, and share wine lists and recommendations with others. The app incorporates the features of the new Windows operating system, pulling users into a tightly integrated Windows experience. In "snap" mode, the app and website sync for a deeper experience. In addition to the features of the app, WineTable.com offers a robust social platform for enthusiasts and professionals alike to deepen their appreciation and knowledge about every facet of wine, plan wine travels and connect with a growing community.
My Wine Lists will also be featured by several OEM computer manufacturers of Microsoft® Windows 8-compatible computers, tablets and phones. Among them, China-based Lenovo, the largest PC company in China and second-largest PC vendor in the world, is spotlighting WineTable on all its Windows 8 machines worldwide.
WineTable was founded in 2010 by Paul Giese, a professional wine educator, executive sommelier and certified wine instructor. Giese received his certifications from the International Wine Guild of Denver. Giese combines his experience as an educator and his knowledge and training as a sommelier, to make the sometimes-overwhelming world of wine more enjoyable and approachable. Giese will be demonstrating the app and available for comment at the Microsoft® flagship store, located at the Mall of America in Bloomington, Minn., Oct. 25, 26 and 27, 4-5 p.m.
Get the app for your Windows 8 device >>
What people are saying about My Wine Lists
"WineTable's My Wine Lists is stunning, the flow is smooth and it is easy to follow. I am definitely adding my wines." - Debra Ray, Owner, Desert Moon Vineyards
"This App will allow me to train my staff and offer a beautiful list to my customers. This is brilliant, I have seen nothing like this." - Anne Clifford, Owner, School II Wine Bar
"What a fun and informative tool, I can't wait to see how our customers will like this App. Easy, fun, and informative, what else can you ask for." - Charlene Meriweather, Owner, Wild Women Wines
About WineTable
WineTable.com is an online community for professionals across the wine industry. It brings together sommeliers, winemaker, educators, chefs, oenologists, wine growers, merchants and other masters of wine. For more on WineTable, visit WineTable.com, or follow on Facebook at www.facebook.com/WineTable or Twitter @WineTable.
Microsoft and Windows 8 are trademarks of the Microsoft group of companies.
---