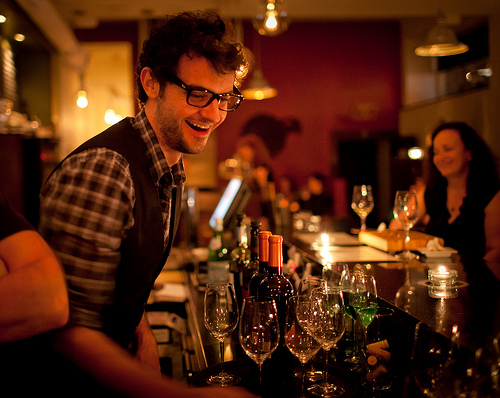 [Obladee Wine Bar, Halifax, Nova Scotia / Gavin Langille]
After water and milk, wine is about the oldest drinkable substance there is. Unlike water or milk, wine has come down to us with a long history of cultural and societal "norms" attached to it (unless, of course, you consider milk with PB&J an important and long-standing cultural "norm"). Wine has a deep ceremonial quality about it--from the careful process of producing and aging to the uncorking to the swish, swirl and first taste to the toasts and even in the order of bottles served. And for generations who have grown up valuing perservations of tradition, these ceremonies have been a carefully curated part of wine drinking.
But then the Millennials came along and tradition went to hell--and wine traditions along with all the rest. (That's the short version of the story; the longer version includes all the rest of the cultural upheavals of the last century, with this newest generation being the latest manifestation--progression or regression, depending on your point of view--etc. etc. etc.) Some traditions, that is.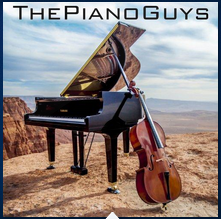 Millennials still drink wine. That's traditional. It's just an evolutionary sort of adaptation--finding new ways to enjoy old things--much like the many crossover classical artists I'm obsessed with (aka Piano Guys and similar). Even with the availability of electric blue drinks and appletinis (yech), Millennials are turning to wine, with with a pretty different approach to their forbears. For them, wine isn't about doing something "right" and following millennia of customs, it's about doing it and trying it and trying it again.
The way this new drama is playing out in restaurants is a shift away from high-end wine bottle and single varietal wine sales and towards by-the-glass and blends sales--all equaling up to an overall rise in sales. Some stats this morning from Shanken News Daily:

5.2% - the rise in overall on-premise wine sales last year

4% - the decrease in by-the-bottle wine listings in casual/upscale restaurants 2009-2012

6.5% - the increase of by-the-glass wine listings for the same group, same time frame as above
A couple notes worth mentioning. As we've noted here on WineTable in the past few months, wine flights and wine barrels are a part of this new era of experimentation. Also, as we heard from Martin Diehr this week, the same buying habits of American youth may not be the best guide for other continents.
Are you a by-the-glass type of person, do you prefer the I-can't-make-up-my-mind approach and go the flight route, or are you an all-in wine drinker and purchase whole bottles?
---