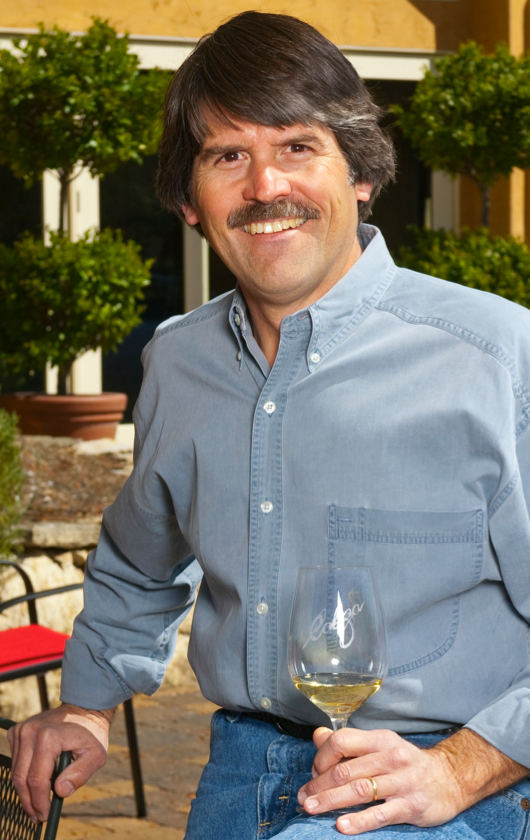 [Winemaker and Owner at Caliza Winery Paso Robles, California]
Last month I finally went to Paso Robles, a place that had been on my wine spit bucket list for years. The good folks at the Paso Robles Wine Country Alliance made a number of great suggestions regarding wineries to visit, some of which I knew of already, and some I had never heard of. Caliza Winery was in the latter group, and I'm very happy I went for a visit.
Carl Bowker, owner and winemaker, is an engaging, passionate, and humble man who makes some refined and delicious wines, despite a number of viticulture challenges he inherited when he bought his Paso land. Carl started growing his own vines in 2003 and his first wines from those grapes were not made until 2008/2009. The 2003 plantings were all new for the site and his experiences and education, noted below, guided the row directions, spacing, etc. to optimize the site for his Rhone grapes. He and his wife have 20 acres planted now, with plans to add another 10 more soon. Even though still somewhat of a newbie on the scene, Caliza wines are making some big waves in the community. Carl crafts delicious, fruit-driven, Rhone-style wines that are deftly balanced by the nice acids provided by the nighttime cooling effects of the Templeton Gap. Let's get to know a bit more about him and his wife Pam, below...
25 Questions
1. What were you before you were a winemaker? After graduating college I spent 25+ years in the convention services business. I worked in everything from display and equipment transportation to coordinating the installation and setup of exhibit booths. I ended up owning a specialty business where we rented live green plants and provided floral arrangements and décor for exhibit halls and individual tradeshow booths.
2. If you weren't a winemaker you'd most likely be: I'd be operating some sort of business where I could craft something and be hands on in the development of the product or service. Either that or a beach bum back in my birth state of Hawaii.
3. Happiest moment(s) during the wine crafting process (besides "finishing")? The happiest moments are those when our wines are favorably received by the consuming public and/or the professional critics. It is always a good feeling to hear and see the love someone else has for the wine you worked so hard to craft. It kind of helps to validate that all your efforts are worthwhile when your wine is appreciated. Other than that the happiest times are always at the beginning of every process whether is the beginning of spring and pruning, or the first harvest day, etc.
4. Worst moment(s)? There are many but most center around when something goes very wrong like the labels not fitting properly on a new bottle or wines that just won't finish fermentation no matter how hard you work at it. There have been many of these less than favorable moments, but fortunately the good ones far outweigh the bad ones.
5. For the rest of your wine-crafting days, if you could only make wine from one red grape variety what would it be? Syrah!
6. For the rest of your wine-crafting days, if you could only make wine from one white grape variety what would it be? Viognier.
7. First wine-related thing you think about when you wake up, monthly, during the year.
January = Not much I hope as this is the only month we are able chill!
February = When would be the best time to start pruning?
March = When will we bottle those recently blended wines?
April = Please no frost this year!
May = If I have not bottled by now I may be in trouble.
June = Can I catch a week on a beach someplace before harvest begins?
July = Did I remember to order new barrels for the harvest?
August = Will harvest come early or late this year and how will I get it all done?
September = Just how ripe can we get this year's fruit and when will be the ideal time to harvest.
October = Cold soaking newly harvested wines, punch downs, pump overs, general fermentation management, do I have enough barrels for this year, when will I get some sleep, etc.!
November = Are all the current vintage wines 'dry" and on their way to starting malolactic fermentation?
December = What will the blends be for the wines made from the prior year's harvest?
8. Of all the winemaking tasks you currently perform, what one do you wish you had a capable intern doing instead of you? Cleaning in the winemaking process is huge and a very necessary task but it is just not any fun, so I'll take all the help possible there.
9. What, if any, liquor do you enjoy neat? Don't generally go that route.
10. If you had to pair a wine with a mild cigar, what grape or style would you suggest? Not much of a cigar smoker but a big rich dark Syrah would be my suggestion.
11. What is your biggest gripe about the wine, and/or adult beverage, industry in general? You kidding me? - It's all great!
12. What did you drink to ring in the last new year? Some sparking no doubt. Probalby had to much of it as I can't remember!
13. If you somehow knew fate, and that you only had one more bottle to enjoy before you died, what wine would you pick? That is a hard one. Probably a some sort of sipping wine like a great Condrieu to drag things out.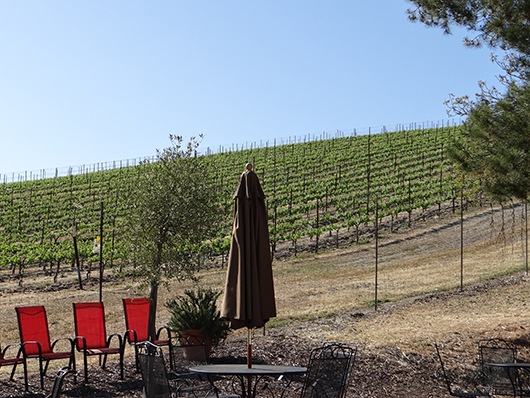 [A resting place by the side of Caliza Vineyard / Keith Hoffman]
14. If you could no longer work in the AVAs you currently do, where would be your top AVA relocation choice? Rhone Valley of France.
15. How do you define "bottleshock"? Wines just get "rattled" a bit during the bottling process so need time to rest and recuperate in order to get back to the state they were before being crammed in that bottle.
16. Please list a few words to describe Mega Purple / Mega Red. Nothing to offer as I don't use the stuff.
17. What is your favorite beer(s), and why? I'm a fan of any beer with body and flavor. If possible I like to start out with something like a Hefeweizen. I love the unfiltered nature of this beer.
18. Your favorite cocktail(s), and why? Gin and tonic for me please. Just a refreshing beverage and I enjoy the botanical aspect of gin.
19. Choose one or more of the following to describe vacuum aerators and similar apparatus: A. Gimmicks; B. Useful, have a positive effect on the wine above and beyond what decanting can accomplish; C. Same effect as decanting, just quicker. Answer(s): C
20. Choose one or more of the following to describe metal dipping devices and similar apparatus advertised to almost instantly "age" wine: A. Gimmicks; B. Useful, have a positive effect on the wine above and beyond what decanting can accomplish; C. Same effect as decanting, just quicker. Answer(s): Not much experience with this sort of devices but generally I'd say probably "C."
21. Have any wine / food pairing(s) that seem odd, but really work? Many people say you can't pair wines with artichokes but do yourself a favor and try splitting a fresh artichoke in half and season it with salt, pepper and herbs of your choice then oven roast for 20+ minutes and pair that with a bottle of some Rhone white wine. I of course recommend the Caliza Kissin' Cousins blend. If you send us an email or Facebook posting my wife, Pam, may even share with you her amazing recipe. You'll be delighted.
22. What is your definition of terroir? To me terroir is everything associated with and/or touched by the grapes and ultimately the wine produced. Of course the soil the grapes are grown in is terroir but so are the bins used when picking the fruit all the way to the grape processing equipment and everything in the winery. All are a "sense of place" that has an influence on the end product wine made.
23. Your favorite single word relating to the wine making, not selling, business is: humbling.
24. What work do you suppose you will do after your final wine is made? Some grumpy old man roll I assume. I'm kidding of course. Hopefully I'll still be kicking and can mentor someone else newly interested in crafting wines.
25. If you could give any beginning wine drinkers one sentence of advice, what would it be? Don't over think it as wine is for enjoyment and a beverage to be shared with love ones and friends.
About Carl
Carl Bowker, a relative newcomer to the world of winemaking, has followed a long yet steady path towards his goal of producing special wines. Born and raised in Hawaii, Carl began his farming experience while tagging along with his father, an irrigation specialist to the local farms. This early introduction left a lasting impression and true appreciation for soils and the farming life. Little did he realize that this childhood curiosity would lead him to the special soils of Paso Robles. Upon graduating from the University of Hawaii, Carl left for California to join the corporate world. His entrepreneurial spirit took flight soon after when started his own company and later, other ventures. After several decades he decided that a desk job was not for him and he began the pursuit of his passion for special wines.
Carl's affection for wine turned into an obsession shortly after September 11, 2001 during a visit to Europe. It was there that he expanded his appreciation for world-class wines and for what the land could produce. While there, Carl and his wife Pam got to spend time with many of the regions' finest wine producing families. He attentively listened to the details of wine production and noticed the special connection the families had with their land. From this experience, Carl vowed that he would make this the way of living life for himself and his family.
Upon returning from Europe, the search to locate a vineyard property to grow superior wine grapes ensued. As with many pioneers before them, they chose Paso Robles due to its soils, microclimates, and potential for growing world-class grape varietals from the Rhone Valley region of France.
Carl attended Napa Valley College's Viticulture and Enology associate program and completed it in 2004. With all things moving toward the vision of producing special wines, Carl and Pam ventured to the Rhone Valley of France. It was there that the die was cast. It was to be old world wine in the new world that he would make. Deep, opulent and complex Syrah of the Northern Rhone, Grenache-based blends of Chateauneuf-du-Pape and Viognier-based white wines were what would be produced at the family's Caliza Winery in Paso Robles.
In 2006 the quest ended and the vision began when Carl and Pam planted their 20 acre hillside vineyard. Located on Anderson Road in the famed Templeton Gap on the Westside of Paso Robles, the warm days are met with the cooling evening influences of the coastal marine breezes."
---