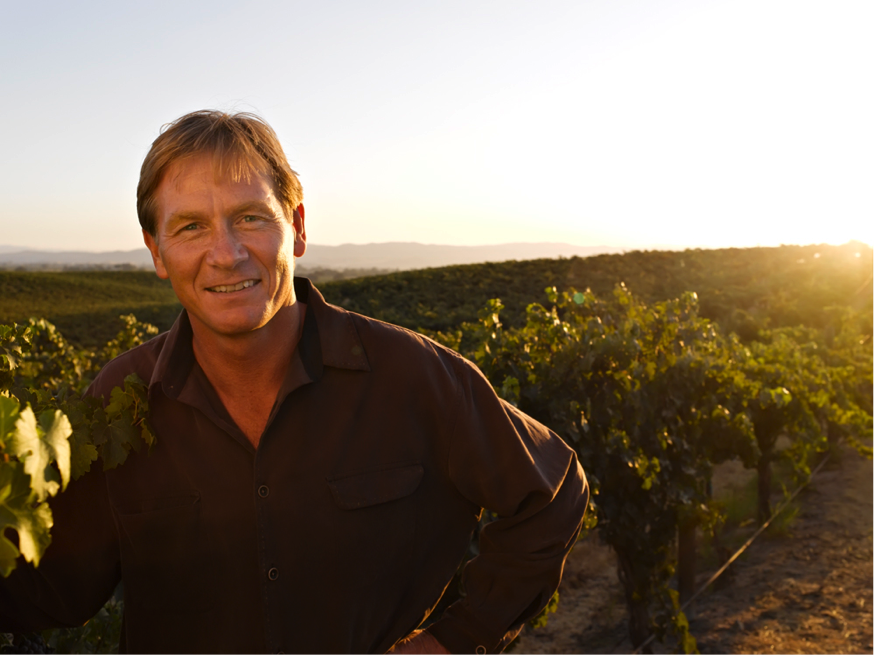 I sat down for three great hours with Steve Peck, red winemaker, on the J. Lohr Vineyards deck all the way through a setting Paso sun. We tasted some of the whites, which he does not oversee, and the reds, which he does. What a likeable gent. I stole a whole evening from him, and he was perfectly gracious, engaging, and simply a great guy to hang out with.
Steve brings a biotechnology background to his wine crafting and I bring the same to my wine drinking. Needleless to say, we hit it off. A lot of our discussion centered on the unique challenges of producing wines in the style I prefer, acid-driven and "Old World," in what is a very warm and decidedly New World growing region.
Mr. Peck, being keen on keeping pesky pyrazines compounds (which impart a "green" flavor I find particularly disagreeable) from developing in his cabernet sauvignon employs interns whose sole job is to run around taking exact water measurements from 2,000 acres of vines. Their tireless data collection feeds into a complex irrigation program designed to keep pyrazines from accumulating.
We tasted a quiver of fine wines, and a few of the highlights included: the 2011 "Fogs Reach" pinot which had a solid acid pop, nice black tea notes, and an extended finish, I'm sure she'd be a great "food wine" ($35); the 2010 merlot which showed nice, lightly smoked, dark plum skin and red apple aromas with nice balance and a cranberry bite on her close ($15); Quality to Price Ratio (QPR) stalwarts, the 2004 and 2010 Hilltop cabernets with deep cassis and blackcherry flavors, multiple wood layers, and firm, but approachable tannins ($35 each); and finally, a simply amazing QPR, the 2008 Hilltop cabernet with plum skins, forest floor, crushed leaves, and big blackcherry and boysenberry flavors with a long mineral and tobacco close for just $35.
J. Lohr stats: 1,300,000 cases annually, owners of 2,000 acres of vines in Paso, and another 1,100 in Monterey. Big, yes. Do their wines taste like mass production? No.
Let's get to know more about Steve, below…
Questions:
1. What were you before you were a winemaker?
I was only 19 years old on my initial foray into professional winemaking. Prior to that I guess I was just a teenage punk. Today, I wonder why I spent 15 years in biotech research before returning to my winemaking career 12 years ago. I have a tendency to do things the hard way.
2. If you weren't a winemaker you'd most likely be a?
Biotech researcher making wine in my garage.
3. Happiest moment(s) during the wine crafting process (besides "finishing")?
When I taste my first sip of Seven Oaks after bottling.
4. Worst moment(s)?
Making grape harvest decisions when the weather is bad... Whether it's rain, a heat wave, or frost, it can be seriously stressful.
5. For the rest of your wine-crafting days, if you could only make wine from one red grape variety what would it be?
I have a thing for malbec.
6. For the rest of your wine-crafting days, if you could only make wine from one white grape variety what would it be?
Give me a life sentence of Chardonnay and I would be a happy man.
7. First wine-related thing you think about when you wake up, monthly, during the year.
January = Christmas break was great, but why haven't these wines all finished fermentation? Maybe I should have played it safe and picked sooner?
February = Under pressure, gotta get Seven Oaks out of barrels and headed toward the bottling line.
March = Hilltop cab is coming along nicely. Glad I let everything get super ripe.
April = Please no frost in the vineyard this year!
May = How am I supposed to make wine when I'm traveling to events and hosting visitors daily at the winery?
June = How are the Cuvee's coming along? Maybe we should give 'em a rack before bottling next month...
July = Why are all these yeast salesmen calling me? Harvest is a long ways off.
August = Better get out in the vineyard to taste fruit before it gets too hot out.
September = Son of a gun! Syrah is ripe and we don't even have any yeast on hand.
October = Hmm... If I slept with my work cloths under my pajamas, I bet I could get out of my bed and into the vineyard to taste the blocks 6 minutes earlier.
November = Complex anthocyanin, total phenolics, parts per million, tannin, temperature, punch down, pump over, free run, light press…. multiplex of thoughts.
December = Nothing like the smell of malo in the morning!
8. Of all the winemaking tasks you currently perform, what one do you wish you had a capable intern doing instead of you?
Nursing sluggish fermentations.
9. What, if any, liquor do you enjoy neat?
Cognac XO, grande champagne hillside.
10. If you had to pair a wine with a mild cigar, what grape or style would you suggest?
A big, lush petite sirah.
11. What is your biggest gripe about the wine, and/or adult beverage, industry in general?
I don't lose sleep over this, but I find it interesting that our labeling requirements for wine are so strict, that many producers actually print all the required "front" label information on the "back" and then place the bottle backwards on the shelf to display their artwork or brand image forward. Tricky marketers.
12. What did you drink to ring in the last new year?
Champagne with oysters.
13. If you somehow knew fate, and that you only had one more bottle to enjoy before you died, what wine would you pick?
I would pull out the 1983 carignan I made with my uncle in Santa Cruz.
14. If you could no longer work in the AVAs you currently do, where would be your top AVA relocation choice?
I think the SF Bay has a lot of potential. Areas like San Benito county.
15. How long do you let your purchased wines rest after they have been delivered?
Usually a month or so.
16. Please list a few words to describe Mega Purple / Mega Red.
Red grape concentrate used in an attempt to elevate hot climate wine to coastal quality.
17. What is your favorite beer(s), and why?
Belgian white beers are nice. Creamy, with lower carbonation
18. Your favorite cocktail(s), and why?
Campari with soda or tonic. I like a drink that bites back.
19. Choose one or more of the following to describe vacuum aerators and similar apparatus.A. Gimmicks.B. Useful, have a positive effect on the wine above and beyond what decanting can accomplish. C. Same effect as decanting, just quicker.
Answer: C
20. Choose one or more of the following to describe metal dipping devices and similar apparatus advertised to almost instantly "age" wine. A. Gimmicks. B. Useful, have a positive effect on the wine above and beyond what decanting can accomplish. C. Same effect as decanting, just quicker.
Answer: A
21. Have any wine / food pairing(s) that seem odd, but really work?
I love our Pinot Noir with Lindt Chili infused chocolate. Sounds weird, I know, but really nice.
22. What is your definition of terroir?
Soil, weather, people and their choices.
23. Your favorite single word relating to the wine making, not selling, business is
delestage.
24. What work do you suppose you will do after your final wine is made?
Unpaid beach activity coordinator.
25. If you could give any beginning wine drinkers one sentence of advice, what would it be?
Wine is part of the meal.
Steve's Biography:
"As the red winemaker for J. Lohr Vineyards & Wines, Steve Peck combines a gifted palate, a passion for viticulture and a comprehensive technical knowledge of winemaking practices.
Born and raised in California, Steve began cultivating his love of viticulture and winemaking as a teenager while traveling to vineyards and working alongside his uncle. A dedicated home winemaker, Steve's uncle taught him the importance of hands-on attention to detail at every step of the winemaking process. This early exposure to vineyards and winemaking inspired Steve to enroll at the
University of California, Davis. While studying chemical engineering and fermentation sciences, Steve put himself through school as part of the team at Joseph Phelps Vineyards. This three-year experience augmented Steve's academic studies with a practical understanding of premium Napa Valley winemaking methods.
After earning his degree, Steve pursued opportunities in the biotech industry, working for Merck and Co. and Genencor International. Throughout this period, Steve remained dedicated to the art of winemaking, crafting his own red wines nearly every vintage, including several Cabernet Sauvignons made from Paso Robles grapes. Eager to return to a career in winemaking, Steve joined Five Rivers Winery as winemaker in 2001. In addition to his role as winemaker for Five Rivers, Steve was also responsible for producing the red wines for Jekel Vineyards beginning with the 2004 vintage. In these capacities, Steve had the opportunity to work with an extensive array of vineyards in Monterey County, Paso Robles and Santa Barbara County, and was responsible for orchestrating harvest scheduling for dozens of growers. During this period, Steve consistently earned acclaim for his red wines.
In 2007, Steve was appointed winemaker for the full portfolio of J. Lohr red wines including J. Lohr Estates, the J. Lohr Vineyard Seriesand the J. Lohr Cuvée Series, as well as red wines for Cypress Vineyards and Crosspoint. Working with Senior Vice President of Winemaking Jeff Meier, Steve strives to maintain the flavorful character of each wine by focusing on the natural characteristics embodied in J. Lohr's estate vineyards. "Steve is inquisitive and intuitive," says Jeff," which are fundamental qualities in a superior winemaker. On top of that, he's a genuinely personable leader with a great technical mind and a real passion for winemaking.""
---