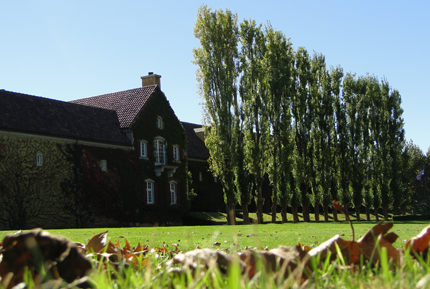 The grounds at Jordan Vineyard & Winery in Healdsburg, Calif., are a sight to behold. The approaching road winds through beautiful country and lulls one into the thought they must be approaching a modest farmhouse teeming with disheveled chickens pecking about, goats with neck bells clanging, and wafts of barnyard. Instead, the road takes a decidedly manicured turn as gorgeous trees suddenly engulf your car.
Then your eyes are diverted to foliage-covered buildings, grand lawns, and lavish architecture. Wow. I honestly involuntarily did a physical double take of the ilk you might see in an over-acted low budget film. The Jordan Estate is massive, unbelievably well groomed, and appears as though it was dropped whole through some wormhole connected to 17th-century Versailles. How could they possibly have built it in just 18 months?
Now, before you think your experience will center solely on grand buildings and a time travel trip to France, the wines absolutely hold their own. Once you try them you get the whole picture. Jordan has built an incredible wine destination and experience. I strongly suggest you see it for yourself.
Details of note
The property was purchased by the Jordans in 1972.
Their first vintage was in 1976.
The winemaker, Rob Davis, has been with Jordan since 1976.
Jordan spans across 1,200 acres, 110 of which are planted with wine grapes.
They produce 100,000 cases of wine each year, two-thirds of which are cabernet sauvignon, while the remaining third is chardonnay.
21 acres are planted with petite verdot, and they think this sizable lot is the largest planting of that grape in the United States.
Their chardonnay is left on lees for two months (which explains its delightfully round and rich mouthfeel), goes through partial malolactic fermentation, and slumbers in new French oak for two years prior to release.
The Jordan cabernet rests in French and American oak, the latter specifically from Missouri.
Notes on the wines I tasted:
2010 Chardonnay ($29)
Nose/ Full mouthfeel. Oil weight is there, and at a very pleasant level. California butterscotch is about a 2 out of 10, but that is accompanied by a nice acid pop that reminds you it was made with gentle care and balance in mind.
Taste/ Stewed hay with delicious caramel notes. A layer of crème brûlée sits atop notes of apple and light toast. Very clean lines cut through yellow tropical. A soft, extended close. Delicious.
2008 Cabernet Sauvignon (77% cabernet, 18% merlot, and 5% petite verdot) ($52)
Nose/ Bright blackberry, lightly smoked plums, clean flint and forest floor. Tobacco. Rhubarb. Light spice. Tiny waft of rubber tree is the only distraction to this great nose.
Taste/ Medium-full mouthfeel. Clean, fresh lines of blackcherry and plum skins. Cranapple cocktail juice. Slight chalk on her close, but that is absolutely remedied by her silk, plum, earth notes. An extended mineral presence closes her out. Delicious.
2003 Cabernet Sauvignon (81% cabernet, 15% merlot, 2% petite verdot, and 2% cabernet franc) ($59).
Nose/ Sweet, soft plum notes dance. Stewed cassis. Deep notes of forest floor. Medium smoked black fruits. Crushed autumn leaves. Savory mushrooms and flint notes steal the show. Complex. Dancing.
Taste/ Medium-full mouthfeel. Still with a touch of cranberry bite (assume would tame with more airing). The cranberry start leads into a wonderful black and purple fruit upsurge. Huge, but elegant. Boysenberry and leather notes on her close. Memorable, complete, and absolutely delicious.
Recipes and Food at Jordan
Jordan stresses proper food pairings with their wines, as was evident during the wine tasting session. Don't miss the in-depth food and recipe sections on their website.
Or try a couple here:

Panzanella with Marinated Manchego and Grilled Sonoma Lamb with Blackberry Sauce >>
Two notable pairings that I experienced during the tasting session were a panzanella with their chardonnay and lamb with blackberry sauce with their cabernet sauvignon.
Advice for your Visit
- Before your visit the "travel time" section of their website is definitely worth a read.
- At Jordan… factor in plenty of extra time to explore and take in the grounds and architecture, you'll be glad you did.
All wine and food were media samples generously provided by the winery.
---