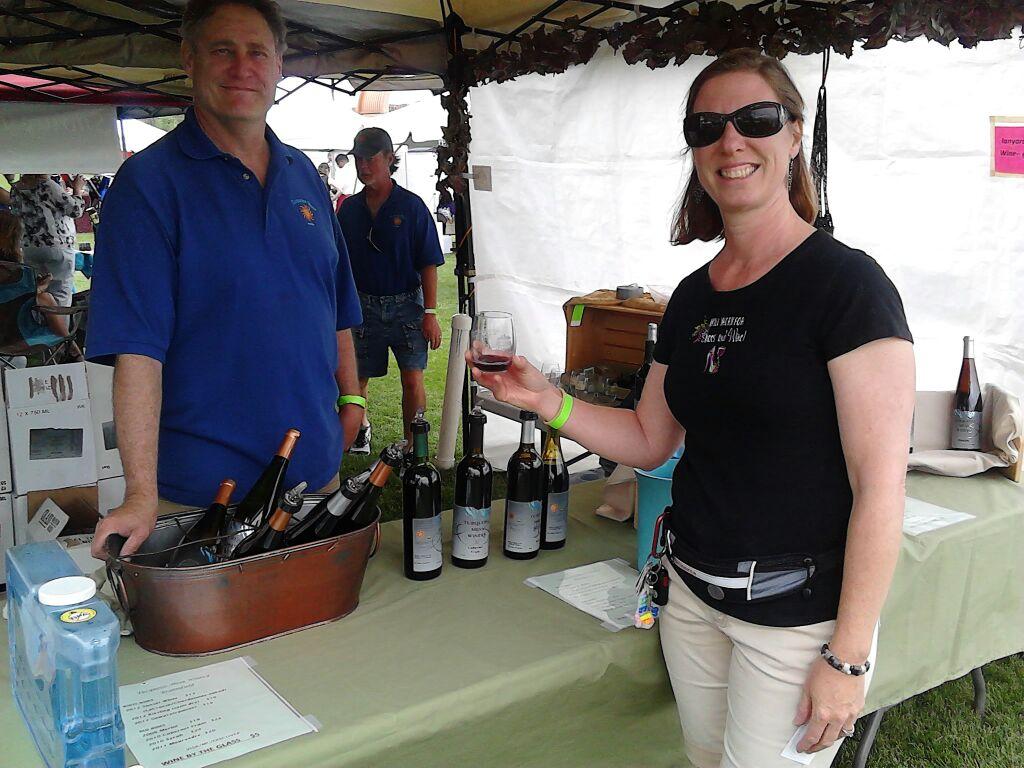 [Enjoying a Taste from Turquqise Mesa Winery / Janine Buchal]
My husband and I recently volunteered to work at Denver, Colorado's Urban Wine Fest put on by CAVE. CAVE is an organization that promotes the interests of Colorado grape growers and wineries. It turned out to be a great cause and a fun opportunity for us to support our local wine farmers/grape growers while learning about wine varietals that Colorado's best wineries bring to the market. Volunteering at wine events is a great way to get involved in your local wine scene and get stage-door access to the excitement of a special weekend or event.
I have manned many an event and know what to ask, look for and avoid. If you're volunteering, I recommend making sure the date, time and location fit your schedule. Find out if the event is all outdoors or indoors so you can slather on the sunscreen or just wear jeans. Sign up for a shift and remember to treat it like a job but keep in mind payment is more about helping out and experiencing the event from the other side of the table rather than money. Ask about parking. Often, you park at a designated lot or have your ticket validated so you are free from worry and are treated like a valuable part of the team—because you are, indeed. Many events offer a free t-shirt as it lets others know you are one of the go-to folks.
Once we understood and agreed with the focus of the event, the Event Coordinator gave us our volunteer slot in exchange for free entry into the event. Nice gig, if you can get in on the front end. Keep in mind, spots fill quickly so volunteering is often a first-come, first-available opportunity. After being confirmed for the event, you only need to nail a few concepts to help make it successful.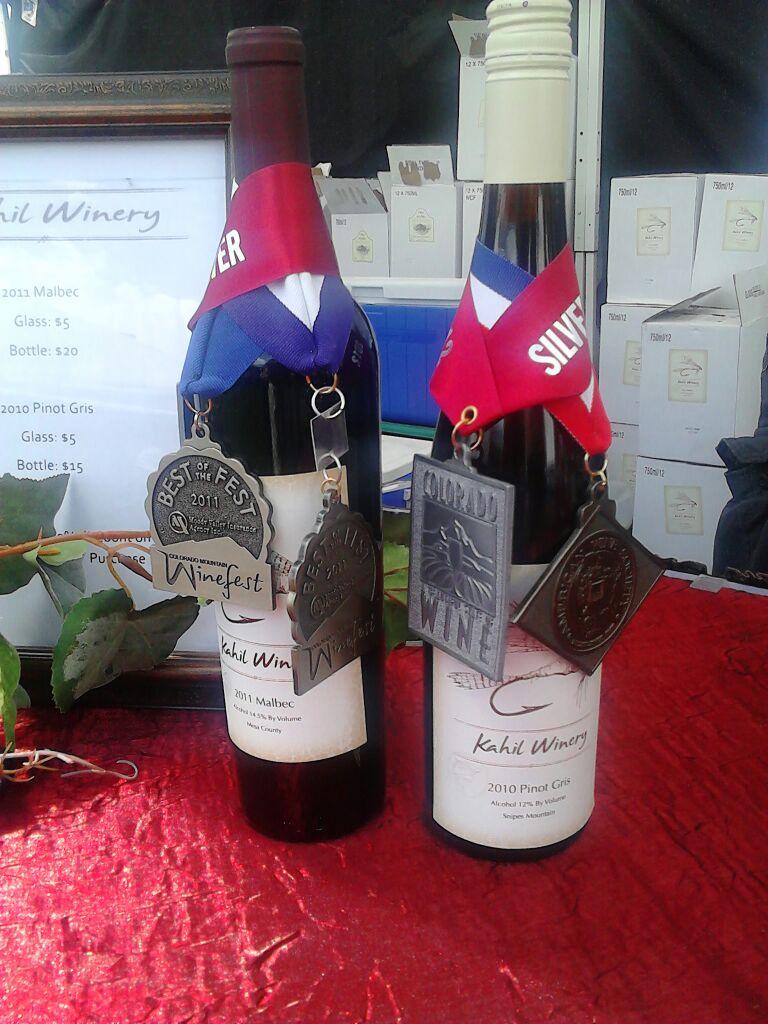 [Some of the Award-Winning Wine from Kahil Winery / Janine Buchal]
Be on Time. Show up on time to the location, dressed appropriately, and ready for your tasks. The Coordinators of these events would not be able to pull a wine event off without assistance, so be available to them when and where they need you. We were back-up and assigned to look in on several other volunteers already positioned at their stations. Since this was an outdoor event, we were checking to make sure the volunteers were in good shape with water, sunscreen, chairs, etc. so they could serve the visitors best. We looked in on fellow volunteers to see if they needed anything in the food demo booth, the front guest check-in spot and then VIP tent. You may be asked to run for ice, fill a spot at the front gate so someone can go to the bathroom or help pour wine like we were asked to do. Do so with a cheerful heart. Remember you are representing the event and you want to be great hosts.
Come with a Flexible Attitude. Sometimes the task may require heavy lifting or a creative flare or even medical assistance experience. Be willing to lend a hand where needed even if it is not your first choice. The wind was strong at this event and we needed to reface a few booths to counter balance them. We were also in the right place at the right time when someone needed first aid. My formerly Navy-trained husband sprang into action staying with a guest who fainted in the heat and I offered water and comfort until trained event security and later the firefighter EMTs arrived. (Hopefully you won't need this set of skills but it always helps to stay alert and available.) Plus, it certainly makes for a lively event when you can offer more than just personnel skills to your fellow man or woman. Keep in mind you are part of the hosting team, right?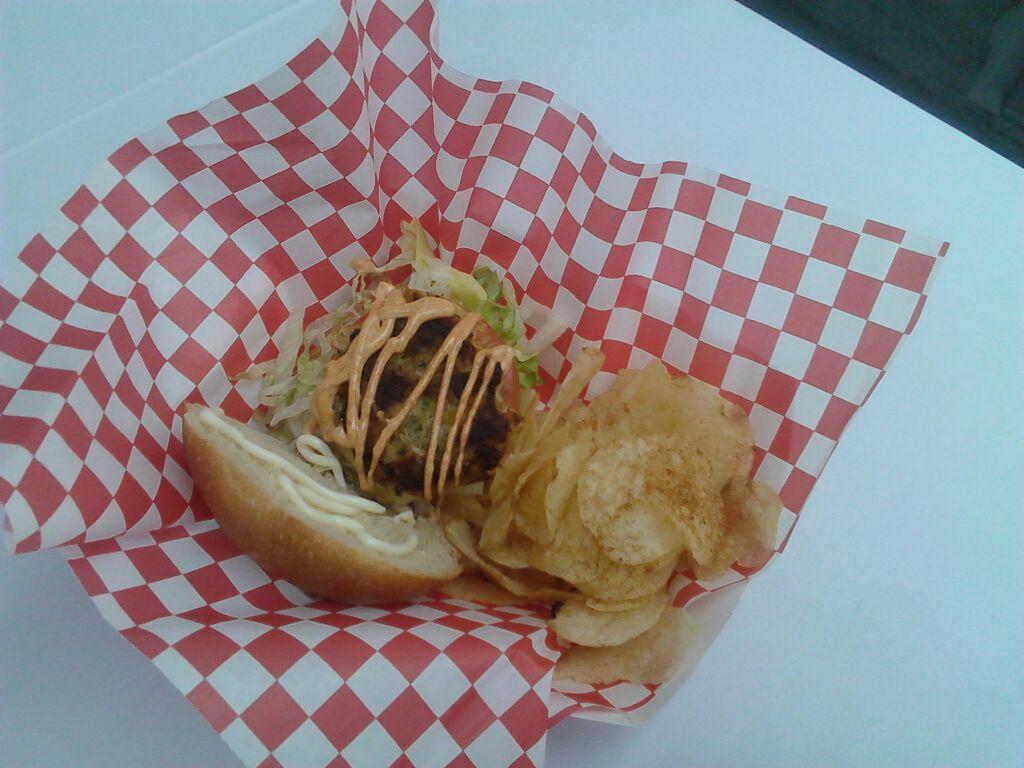 [Perks of Volunteering at a Winefest—Awesome Food. A Crab Cake Slider from Capt'n Crabby / Janine Buchal]
Enjoy yourself. We were allowed to walk the event and visit the different Colorado wine sampling booths before our shift. Winemakers from Bookcliff Vineyards, Kahil Winery and Cottonwood Cellars were amongst our favorites. They sampled and showed some wonderful Pinot Gris, Syrah, Malbec and award winning Cabernets. We also enjoyed Maryland crab cake sliders from Capt'n Crabby's Food Truck. One word: Amazing! The concept worked out well to have food trucks on the lower level and the wine booths on the main grassy area of Infinity Park in Denver.
If you enjoy yourself, chances are your enthusiasm will be contagious and others will also. Whether you are enthused about the music, food or, of course, the wine from your local area, it is such a fun and equally advantageous to help out and experience what hard work and organization goes into even a small wine event. Know you are there to fill and complete a task but you can do it while bopping to music and sipping a little wine. It is as fun as you make it plus you are helping support a cause! Way to go. You will appreciate all the hard work and many people skills it takes all the more, the next time you are on the other side of the table.
---