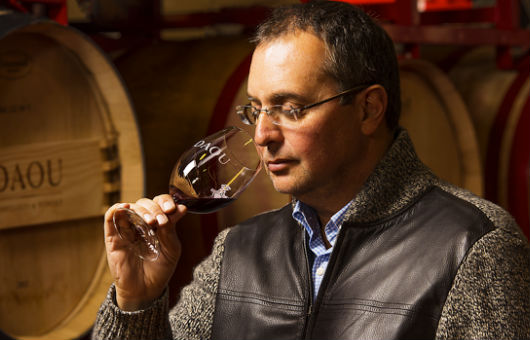 Clean, glowing white onyx imported from Mexico formed the gorgeous tasting bar that introduced me to DAOU Vineyards and Winery. Delightful taste treats of fine cheeses, home-roasted pistachios, quince and delicious, earthy green olives in their own oil were placed to my right. Daniel Daou approached, smiled warmly, and proceeded to not only wow me with his wines, but he also conveyed his winemaking passion and philosophy with precision, depth and best of all, contagion.
Daniel presides over an amazingly gorgeous setting on his mountaintop vineyards and facility in Paso Robles. The higher elevation of his vineyards means his grapes develop in temperatures an average of almost 10 degrees lower than the sometimes-oppressive heat of some other regions in the Paso AVA. In fact, Daniel likens the DAOU climate with that of Oakville in Napa (and, as you will see below, that is one of his favorite AVAs), and the calcerous soils around him with those of France.
Unlike many in Paso, he does not add acid to his fermenting grapes, as his vines per acre are almost 3.5 times what others nearby have, while his clusters per vine are two to three times smaller. He believes these factors combine to allow proper ripeness and vine stress, which results in soft tannins and solid acid levels. Additionally, he pays a hefty electric bill to keep his cellar at a frosty 50 degrees so that the chill, not the normal addition of extra sulfites, keeps any unwanted bacteria from spoiling his wine during barrel aging. Finally, Daniel even managed to make a long conversation about cabernet clones pretty riveting.
I sampled a number of his wines and will report on those later, but suffice it to say, his passion is obvious in his 100% free run whites and reds. They dazzled.
Let's get to know more about Daniel….
26 Questions
1. What were you before you were a winemaker? I was high tech executive with a computer engineering background.
2. If you weren't a winemaker you'd most likely be a…? Vineyard manager.
3. Happiest moment(s) during the wine crafting process (besides "finishing")? Being in the vineyard and crafting my wine in the vineyard. That's where the magic happens.
4. Worst moment(s)? Bottling. Lots of stress after a three-year journey to not screw something up.
5. For the rest of your wine-crafting days, if you could only make wine from one red grape variety what would it be? Without a doubt – Cabernet Sauvignon.
6. For the rest of your wine-crafting days, if you could only make wine from one white grape variety what would it be? Chardonnay.
7. First wine-related thing you think about when you wake up, monthly, during the year.
January = New blends and preparing for bottling.
February = New blends and preparing for bottling.
March = New blends and preparing for bottling.
April = Preparing for bud break.
May = Blending our higher-end wines and bottling them.
June = Drinking my blends.
July = Balancing the vines.
August = Balancing the vines.
September = Harvest.
October = Harvest.
November = Harvest.
December = Tasting the wines I just made.
8. Of all the winemaking tasks you currently perform, what one do you wish you had a capable intern doing instead of you? Sampling grapes in the Vineyard.
9. What, if any, liquor do you enjoy neat? Sambuca.
10. If you had to pair a wine with a mild cigar, what grape or style would you suggest? Cabernet with hints of chocolate and coffee.
11. What is your biggest gripe about the wine, and/or adult beverage, industry in general? Wine is sometimes viewed too much as a product as opposed to food.
12. What did you drink to ring in the last New Year? Champagne.
13. If you somehow knew fate, and that you only had one more bottle to enjoy before you died, what wine would you pick? My own. DAOU Soul of a Lion.
14. If you could no longer work in the AVAs you currently do, where would be your top AVA relocation choice? Napa.
15. How do you define "bottleshock"? After bottling, wine has to develop a sense of comfort in the bottle. The process sometimes leaves a wine not showing its total potential for a short period of time.
16. How long do you let your purchased wines rest after they have been delivered? One week.
17. Please list a few words to describe Mega Purple / Mega Red. Desperation, Adulteration, Manipulation.
18. What is your favorite beer(s), and why? Don de Dieu. I like it because it tastes like wine. J It actually reminds me of a muscat.
19. Your favorite cocktail(s), and why? I don't have one.
20. Choose one or more of the following to describe vacuum aerators and similar apparatus. A. Gimmicks; B. Useful, have a positive effect on the wine above and beyond what decanting can accomplish; C. Same effect as decanting, just quicker. Answer: A
21. Choose one or more of the following to describe metal dipping devices and similar apparatus advertised to almost instantly "age" wine. A. Gimmicks; B. Useful, have a positive effect on the wine above and beyond what decanting can accomplish; C. Same effect as decanting, just quicker. Answer: A
22. Have any wine / food pairing(s) that seem odd, but really work? Zinfandel with chocolate or Roussanne with Goat Cheese.
23. What is your definition of terroir? Soil, Climate and Winemaker's skill. All three.
24. Your favorite single word relating to the wine making, not selling, business is: terroir.
25. What work do you suppose you will do after your final wine is made? More wine making J.
26. If you could give any beginning wine drinkers one sentence of advice, what would it be? It's not a product. It's food. Sip it slowly and enjoy.
About Daniel Daou
You could say that all of Daniel Daou's aspirations for his ideal vineyard and winemaking experience have been reached. The confluence of geography, climate, viticulture, and opportunity has allowed him to become the winemaker he always wanted to be. Winemaking is far more than just a job for Daniel. It's a highly contagious passion, particularly for Cabernet Sauvignon, that is reflected in his wines. Although his prime motivation is passion, his background as an engineer informs his every decision as a winemaker. Daniel goes to extraordinary lengths, such as employing methods only used in producing first-growth Bordeaux, to ensure that his wines are balanced with nonintrusive tannins to provide structure for the full bodied fruit while the wine matures, first in the barrel and later in the bottle. In the vineyard, he walks a fine line by letting the grapes struggle, yet never crossing over to the point where the vines would shut down.
Often, friends and fans of his wines describe Daniel as a man both charismatic and passionate, yet always ready to listen to others. He is seen as a committed member of the community whose drive and resources will take Paso Robles to a whole new level. For Daniel, putting his cherished family name on the bottle means everything. What's inside the bottle must warrant that privilege, so every day he thinks about how to ensure the level of excellence he expects from his wines."
"It's rare to have all the elements needed to achieve perfect balance and ripeness in a terroir. We found all these elements on our mountain and work hard to capture that magic from vineyard to bottle," Daou says.
---