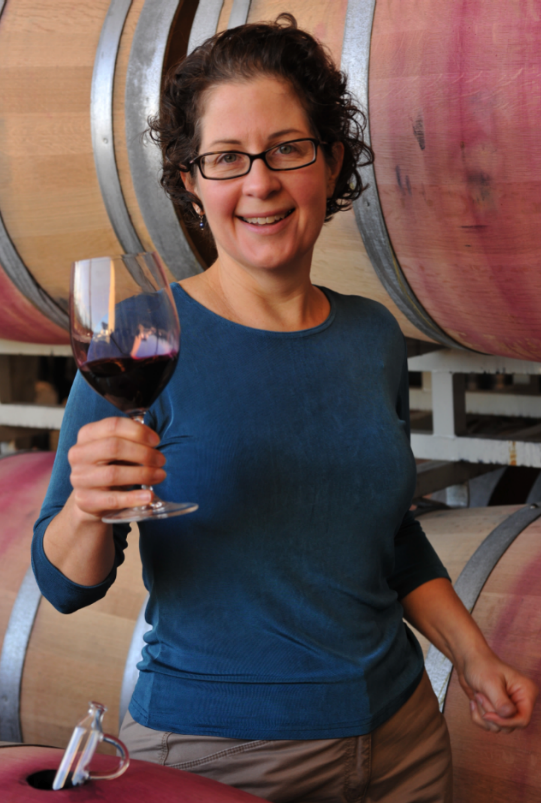 [Janet Myers, Director of Winemaking at Franciscan Estate and Mount Veeder Winery, Napa Valley, California]
Janet Myers presides over two venerable wine houses: Franciscan Estates and Mount Veeder Winery. I've been a fan of Franciscan wines for many years now, but have not had the chance to try Mount Veeder (although their reputation is stellar). A few weeks ago I visited Franciscan again and had an elegant tasting experience with Margaret Herreid. We sampled Janet's Sauvignon Blanc (fresh hay and lime zest, acid-kissed Meyer lemon flavors, mineral close), Cuvée Sauvage "Wild Yeast" Chardonnay (gorgeous California-style but thankfully restrained on the butter and oil, nice crème brûlée notes and a New World fruit profile complemented by Old World minerality), and Oakville Cabernet (smoked plum, cassis, forest floor and tobacco notes on the nose introduce deep flavors of black cherries and plum, her close is both savory and mineral). It was a fantastic tasting that showcased Janet's skills across very different wines. Lets get to know more about Janet, below…
21 Questions
1. What were you before you were a winemaker? I had started graduate work in Anthropology, but took a break to travel and live in London. I worked in restaurants for several years, where I got bit by the wine bug.
2. If you weren't a winemaker you'd most likely be a _____ ? So many interesting options: cheesemaker, coffee roaster, goat farmer, flavor scientist, geneticist.
3. Happiest moment(s) during the wine crafting process (besides "finishing")? Walking and tasting in the vineyards in the early morning. Also, tasting the new wines at drain and press, which is like opening Christmas presents.
4. Worst moment(s)? Walking the vineyards in a downpour during harvest!
5. For the rest of your wine-crafting days, if you could only make wine from one red grape variety what would it be? Cabernet Sauvignon – there is so much complexity and expression from this noble variety.
6. For the rest of your wine-crafting days, if you could only make wine from one white grape variety what would it be? That's a tough one. If you twist my arm I'd have to say Chardonnay, but I'd miss Sauvignon blanc. Chardonnay is so versatile, from mineral flinty styles to creamy opulence.
7. How do you define "bottleshock"? That period after bottling when the wine can be shy, muted, lean, and turned inward, owing to the movements during the bottling process.
8. How long do you let your purchased wines rest after they have been delivered? I usually put them away for a good while anyway, but on occasion when I do open them quickly I haven't noticed a consistent adverse effect.
9. Please list 5 words (or more) to describe Mega Purple and/or its use and/or users. Simply put, you won't find it in a wine from Franciscan Estate or Mount Veeder Winery.
10. What is your favorite beer(s), and why? Red Tail Ale is my house beer. I don't have a technical beer vocabulary, but it just hits all the right notes.
11. Your favorite cocktail(s), and why? A glass of Champagne : ) Otherwise, a Gin and Tonic. Both are refreshing and palate cleansing.
12. How long to you typically decant the following red wines prior to enjoying them: Cabernet, Merlot, Meritage and Bordeaux blends, Syrah / Sirah? It all depends on the age and producer, from 0 to 2 hours typically. A very young big Cabernet like Mount Veeder Reserve I might double decant back to the bottle in the morning for that night's tasting. A fruit-driven Syrah I wouldn't usually decant, while an "animale" style Syrah often will benefit from some air. But mostly I like to see the evolution in the glass, so I don't go too long.
13. Under what circumstances would you decant a Pinot? If the producer uses a lot of new oak, and it's a young wine, I might give it an hour to breathe to get to the fruit.
14. Under what circumstances would you decant a white wine? Sometimes a bigger sur lies aged young Chardonnay, like Franciscan's Cuvee Sauvage, can benefit with a ½ hour of air to develop, but it will reveal itself just as well with time in the glass.
15. Choose one or more of the following to describe vacuum aerators and similar apparatus.
A. Gimmicks.
B. Useful, have a positive effect on the wine above and beyond what decanting can accomplish.
C. Same effect as decanting, just quicker.
Answer(s): C. I haven't seen a vacuum aerator, but the venturi effect aerators do work, in the side-by-side comparisons I've seen (I have a cousin who won't drink a red wine without one). That said, I don't use them, preferring to just decant or simply watch it evolve in the glass. But then I'm not a wine gadget type.
16. Choose one or more of the following to describe metal dipping devices and similar apparatus advertised to almost instantly "age" wine.
A. Gimmicks.
B. Useful, have a positive effect on the wine above and beyond what decanting can accomplish.
C. Same effect as decanting, just quicker.
Answer(s): I haven't tried these products, so can't say. It sounds suspect, but metals do catalyze oxidative reactions, so maybe it can mimic some effects of aging. I wouldn't opt for it myself, but for those who find that it enhances their experience, go for it.
17. Your favorite brand of wine glass is Riedel for reds, Riedel for whites.
18. Some of your favorite non-US and non-European wines come from where? New Zealand. We use NZ techniques on our Sauvignon blanc, like skin contact and no oak, to bring out the intense, bright lime and grapefruit expression.
19. Have any wine / food pairing(s) that seem odd, but really work? Wine and food pairing is so individual, almost anything can work, when one is partial to a particular wine. Bordeaux and halibut, why not? Pairing concepts are a good starting point, but don't let anyone tell you what you should or shouldn't drink. No matter how well I think Sauvignon blanc and goat cheese go together, or Rosés and Dungeness crab, or Riesling and Indian food, if you don't like those varietals, then you won't like the pairing.
20. What work do you suppose you will do after your final wine is made? Can't even see to that point! Probably will involve perfecting heirloom tomato cultivation, helping at the humane society, and finally organizing my wine cellar.
21. If you could give any beginning wine drinkers one sentence of advice, what would it be?
Try approachable varieties like Pinot noir and Gewurz; turn to a trusted friend or retailer to help guide you towards wines to try; and always trust your palate and make your own opinions.
Janet's Biography
"Janet Myers has worked all over the world with several different varieties, but nowadays her focus is Cabernet Sauvignon. "I have a passion for Cabernet—"Cab is King," and I have a deep interest in this renowned variety," says Janet.
"Oakville is one of the best spots in the world for growing Bordeaux varietals, especially Cabernet Sauvignon, so Franciscan's estate vineyard in Oakville is the perfect place to devote myself to exploring Cabernet and its nuances. I love the body and texture of Cab, how it has layers of intensity and richness, but with elegance and finesse."
Traveling a wine road wasn't Janet's original path. In what now seems like another life, she gave up her pursuit of a doctorate in Biological Anthropology to move to London, where she worked in the restaurant industry. Living above a wine shop, she enjoyed sampling the wares of her downstairs neighbor and decided to learn about wine production. "When I realized that this was an industry that combined science and agriculture—which is my family's background—I enrolled at UC Davis and haven't looked back."
Her first harvest was at the Robert Mondavi Winery in the Napa Valley. After graduating from UC Davis with a Master's in Enology, she pursued harvest abroad to enrich her experience. Wanting to connect to her roots by spending time in Italy, her mother's ancestral home country, Janet turned to the Antinori winemaker in Italy, who offered her a harvest internship at the Santa Cristina Estate in Chianti.
Before coming to Franciscan Estate in August of 2003 as Associate Winemaker, Janet also enjoyed stints in Australia's Margaret River region and at big Cabernet producers Beaulieu Vineyard, Stag's Leap Wine Cellars and Louis Martini Winery. Janet was promoted to Director of Winemaking of Franciscan Estate and Mt Veeder in August 2005.
Janet finds that Franciscan's venerable Oakville Estate vineyards have their own unique signature. "These vineyards give us very supple, full, elegant wines with beautiful cassis flavors and mouth-filling fine tannins," she says. "That's pure Oakville."
About small-lot winemaking at Franciscan Estate
"At Franciscan Estate, our wine lots are kept separate from the vineyard until just before bottling. After picking by hand, every load of grapes is assigned its own tank, sized to just match the vineyard block. With no need to turn tanks quickly for another batch, each lot can be crafted slowly, in its own time, for maximum flavor expression. This effectively creates a collection of limited-production wines with each vintage.
Every lot of Cabernet Sauvignon, Merlot, and blending varieties Malbec, Cabernet Franc, and Petite Verdot is nurtured with pre-fermentation cold soak for up to four days; this gives deep, rich color and texture to our wines. Following fermentation, the wines are allowed to further macerate on the skins, a total of 20-30 days, to develop smoother tannins, full body, and a silky mouthfeel. This level of detail requires continuous monitoring. Winemaker Janet Myers and her team evaluate every lot, every day during fermentation.
Like the red wines, Chardonnay is also handled with close attention to detail. The majority of the Chardonnay lots are fermented using wild yeasts, which requires constant attention but lends sublime complexity to the wine. The handful of lots selected for the Cuvée Sauvage Chardonnay blend are 100% wild yeast fermented, with hand-stirring throughout extended sur lies aging."
---