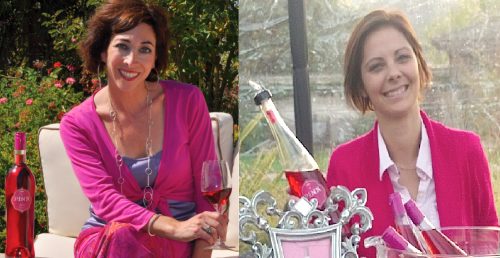 [Credit: Pink Girl Wines]
Tina Carpenter and Martina Clain, Pink Girl Wines, Napa Valley, California
Two years ago I helped organize a rosé tasting, and one of the wineries that chose to participate was Pink Girl. Among my impressions back then: "the sparkled jewel on the label, the label colors, etc. all make this an obvious bachelorette party winner. However, don't let the packaging make you think this is not a serious wine – it is, and it is lovely." I also had this to say about their wine (a 2009 rosé of syrah): "lovely, dripping strawberries, raspberries, and watermelon. Her acids are nicely balanced by her sweetness. Complex structure and a very nice ride." In short, I really enjoyed it.
On skins for just two hours, stainless steel fermentation, no ML (malolactic – a secondary fermentation commonly used to mellow harsher malic acid to softer lactic acid), and no oak make this wine the kind of clean and bright offering I crave in a rosé.
With only 250 cases made of their 2011 rosé, they are decidedly small. However, Pink Girl is expanding (they will make approximately 300 cases of their 2012 Napa Valley rosé and will soon be releasing, Pink Girl Starlet, which will be a slightly sweeter fizzante rosé of muscato). Let's get to know a bit more about Tina and Martina…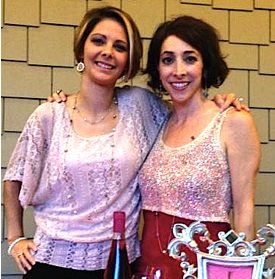 21 Questions
1. What were you before you were a winemaker? Wine label designer (Tina), and professional photographer for Indy Car Racing (Martina).
2. If you weren't a winemaker you'd most likely be: Tina an EMT and Martina would be Meteorologist.
3. Happiest moment(s) during the wine crafting process (besides "finishing")? DRINKING the fruits of our labor!!!!
4. Worst moment(s)? Hand-applying the real Swarovski crystals on each label!!!! Why do we do it… because we can!!!!
5. For the rest of your wine-crafting days, if you could only make wine from one red grape variety what would it be? Syrah – you know it!
6. For the rest of your wine-crafting days, if you could only make wine from one white grape variety what would it be? Sauvignon Blanc.
7. How do you define "bottleshock"? The time that our sensitive, precious little ones need a little timeout before heading into the BIG TIME.
8. With regard to bottleshock….how long do you let your purchased wines rest after they have been delivered? Since we only make a rosé, I will wait 1-2 months before releasing our wine to the public.
9. Please list 5 words (or more) to describe Mega Purple and/or its use and/or users. Adds color.
10. What is your favorite beer(s), and why? Tina's is Sierra Pale Ale. Refreshing, crisp, not too filling but flavorful. Martina's is Stella, refreshing and crisp.
11. Your favorite cocktail(s), and why? Anything with ginger, cucumber, lime and vodka!!! Why? Because it's a darn good combo!
12. How long to you typically decant the following red wines prior to enjoying them? Cabernet: depends on the cabernet, AVA and vintage. Merlot: none. Meritage and Bordeaux blends: depends on the blend, AVA and vintage. Syrah / Sirah: none.
13. Under what circumstances would you decant a Pinot? I don't because I like younger Pinots but if it were older, I might.
14. Under what circumstances would you decant a white wine? I wouldn't.
15. Choose one or more of the following to describe vacuum aerators and similar apparatus.
a. Gimmicks.
b. Useful, have a positive effect on the wine above and beyond what decanting can accomplish.
c. Same effect as decanting, just quicker.
Answer(s): C
16. Choose one or more of the following to describe metal dipping devices and similar apparatus advertised to almost instantly "age" wine.
a. Gimmicks.
b. Useful, have a positive effect on the wine above and beyond what decanting can accomplish.
c. Same effect as decanting, just quicker.
Answer(s): A
17. Your favorite brand of wine glass is: Riedel for reds, Riedel for whites.
18. Some of your favorite non-US and non-European wines come from where? Awesome malbecs from Argentina.
19. Have any wine / food pairing(s) that seem odd, but really work? Pink Girl rosé of syrah with a Southern pulled pork bbq sandwich. And you gotta love popcorn with truffle oil and the right pinch of salt and a good glass of champagne!
20. What work/career do you suppose you will embark on after your final wine has been bottled? Tina, Put me in my garden. I will find plenty to do! Martina, world traveler!
21. If you could give any beginning wine drinkers one sentence of advice, what would it be? Have fun, don't feel intimidated by wine, it's meant to be enjoyed!
About Tina
Tina Carpenter, proprietor of Pink Girl Wines, is a lover of all things pink! In 2006, when she decided that she needed a pink wine in the house, she asked her husband Chris, a red wine maker, how she could make this happen. Being a marketing and luxury brand designer, she knew there was an opportunity to showcase the femininity of a rosé, making it in a style that is approachable, balanced and can be enjoyed with a range of food styles. More importantly, the opportunity to put some fun and bling into a pink wine was beckoning. The pièce de résistance is a real Swarovski crystal that is hand-applied to each label. And with two daughters in tow, it had to be called none other than Pink Girl! In addition to Tina's presence behind Pink Girl, she also runs a boutique design firm, Carpenter Creative, in the heart of Napa Valley. Growing up in herparent's Chicago neighborhood mom and pop's pizza place, she learned early on to not only work hard but love what you do! And when she is not designing or sipping Pink Girl with friends, she is chasing either her two girls, Maggie and Sadie, or her other girls, CoCo and Marvina, the Carpenter Family resident chickens.
About Martina
Martina Clain, sales and marketing manager of Pink Girl Wines, is also a lover of all things pink!
When Martina learned of Pink Girl, she immediately found the picture she had of her with her hair dyed pink and sent it to Tina. They were a perfect match for each other! With an art background from The School of the Art Institute of Chicago, and sales training in Las Vegas, she knew exactly how to get Pink Girl out for the world to enjoy. She immediately hit the ground running, knocking on every restaurant and retailers door in Napa and the San Francisco Bay Area. Martina currently manages Northern and Southern California distributing for Pink Girl Wines. When a glass of pink wine is not in her hand, Martina's 1-year-old daughter, Gianna is— donning a pink tutu of course!
About PinkGirl Wines
"Pink Girl is a California rosé unique and pink - one that celebrates the true beauty of a rosé, pink, vibrant and feminine. Each label is hand-applied with a real Austrian crystal - this wine utters "pink" with every sip.

While Napa Valley is known for its seductive red wines, the Syrah grape puts forth a lovely red and white fruit character, balanced in this pink wine that is pressed for a rosé. White cranberry, icy pomegranate and a pop of cotton candy hit the palate. This is not Lucy's white zinfandel - it is a dry, crisp, lighter style of wine, meant to enjoy with spicy Indian foods, a summer crab salad or as a stand alone at your next girls' night out!"
Find out more about Pink Girl wines on their website, Twitter and Facebook. And check out the Napa Valley Register's article on them.
---